Rio Tinto profits jump on Asian demand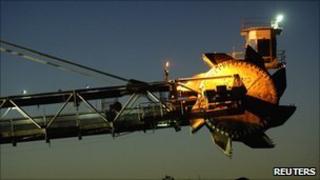 Mining giant Rio Tinto has reported a big jump in profits due to strong demand in Asia and charging higher prices for its products.
Net earnings for the first half year were $7.6bn (£4.6bn), up 30% on the $5.8bn the firm made a year earlier.
However, analysts had expected a higher figure, and Rio shares closed 5.4% lower.
Looking ahead, the company said it expected to continue to experience "higher than average growth".
The miner also said it would increase its share buyback programme by $2bn to $7bn, to be completed by the end of March next year.
"Rio Tinto has produced another set of record-breaking results," said chairman Jan du Plessis.
"Market conditions have remained favourable over the past six months due to strong Asian demand, although the volatile economic environment... continues to exist."
However, the company said it was experiencing high cost inflation in some "mining hotspots".
It also pointed to risks to commodity markets from sovereign debt problems in Europe and the US.