Axa renews attack on referral fees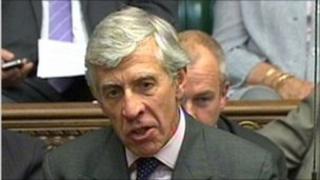 Insurance firm Axa has renewed its call for government action to stop the upward spiral in car insurance costs.
In June, it became the only UK insurer so far to stop selling to lawyers details of its customers who have made insurance claims.
This system of "referral fees" was described by Labour MP Jack Straw as a "racket".
Axa said the government should cut the fees personal injury lawyers can charge under "no win, no fee" arrangements.
"Whilst we welcome signals that the government is minded to impose a market-wide ban on referral fees, they are a symptom - not the cause - of the increase in personal injury claims," argued Paul Evans, chief executive of Axa UK.
"We believe more radical steps are needed. Firstly, a robust review of the fixed fees earned by personal injury lawyers," he said.
Payment system
In response to Jack Straw's original attack on referral fees, the Justice Minister, Jonathan Djanogly, had agreed that they were part of a "rotten" system and that action was needed.
Mr Evans argued that the Ministry of Justice's new computerised system, for processing low-value personal injury claims following car accidents, was part of the problem.
The system, which started in April 2010, allows lawyers acting for a claimant to charge fixed fees of £1,200, payable by the other side's insurers, for pursuing a claim.
The lawyers using the system may have first paid referral fees of £800 to that insurer for each client's details.
Mr Evans argued that as the personal injury lawyers were still able to make a profit on the arrangement, it was obvious the fixed charges they could recoup for their work were too high, and should be cut to just £400,
"The near doubling in claims management firms between 2008 and 2010 stands as testament to the level of profitability available from this work," he said.
'Spurious claims'
Mr Evans also argued that many so-called "whiplash" claims for personal injury were fraudulent.
"There needs to be a comprehensive medical evaluation of muscle damage following a typical low impact road traffic accident, as it is these incidents that are driving the increase of personal injury claims which have caused motor premiums to rise," he said.
"Such an evaluation will help deepen our understanding of minor soft tissue injuries so that those who are injured by the negligent acts of others receive the timely and fair compensation they are due - and spurious claims can be filtered out and rejected without incurring unnecessary cost."
Mr Evans pointed out that while there had been a 10% drop in the number of road traffic accidents in the UK in past three years, personal injury claims on motor policies had gone up by 43%.
"There seems to be no question that UK society is drifting into a compensation culture, encouraged by an industry of claims management firms and personal injury lawyers that has formed to profit from road traffic accidents," he said.
"Indeed, in some regions of the UK, the frequency of personal injury claims are more than double the level we see in the Republic of Ireland, where these practices are yet to take hold."