General Motors quarterly profits almost double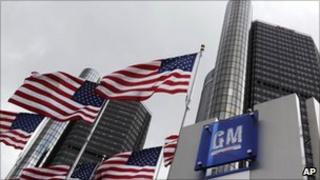 General Motors' quarterly profits have almost doubled after the US carmaker increased market share and pushed through price rises.
GM reported second quarter profits of $2.52bn (£1.54bn) compared with $1.3bn in the same quarter a year earlier, with revenues up 19% to $39.4bn.
The results represent the second full quarter since GM re-listed on the stock market following a restructuring.
Finance chief Dan Ammann said GM "can handle" a downturn in the US economy.
"There is an increased level of uncertainty. But what we're trying to do, and what we've done successfully, is to configure the business with a low break-even point and a strong balance sheet," Mr Ammann said.
GM is now manufacturing smaller, more fuel-efficient cars such as the popular Chevrolet Cruze, but a large slice of profits still come from sales of trucks.
"It was a solid quarter that shows GM's return to health is on track," said Matt Collins, an analyst with Edward Jones.
"But with Japanese automakers getting back in the game while the economy appears to be stalling, this is probably as good as it gets this year," he said.
GM emerged from bankruptcy in 2009 after a $52bn taxpayer-funded bailout. The US Treasury still owns 32% of GM's ordinary shares.