Leading UK banks say they are meeting lending targets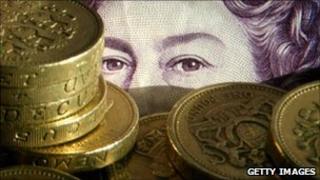 The UK's five largest banks said they will meet targets for lending to businesses in the Project Merlin deal.
The banks said they had lent just over £100bn to UK businesses in the first half of the year against an annual target of £190bn.
Lending to small businesses during the first half was slightly less than half the banks' annual target.
Banks lent £37.4bn to small and medium-sized firms, compared with an annual target of £76bn.
Lloyds, Barclays, HSBC, Santander and Royal Bank of Scotland signed up to lending targets with the government designed to support the British economy.
"The first half-year performance demonstrates the banks' commitment to providing businesses with the financial support they need to invest and grow," said a spokesperson for the five banks.
The banks claimed the economic environment remained "challenging" with "weak" demand for credit from companies.
The government reacted positively to the latest figures.
"Today's provisional results are a big improvement, with lending to small businesses up by 20% for quarter two compared to quarter one," said a Treasury spokesperson.
However, the opposition Labour party said the lending targets themselves were inadequate.
"The weak and toothless small business lending targets have so far been missed," said Shadow Treasury Minister, Chris Lesley.
Relationships
Lending targets are not the only aspect of the Project Merlin agreement. Banks also agreed to improve the way they work with businesses.
"Targets only tell part of the story, what is absolutely critical is to see relationships between SME's and lending institutions rebuilt and to see trust and transparency improve," said Adam Marshall, director of policy at the British Chambers of Commerce.
Lloyds, Barclays, RBS and HSBC have all announced cost-cutting measures in their latest financial results.
"I would be concerned if cost-cutting in the banks means poorer relationship management," said Mr Marshall, adding it was too early to tell what the impact would be.