Personal insolvencies stabilising, official figures say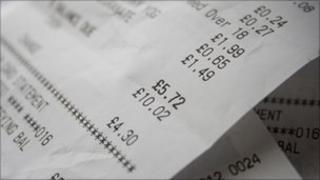 The number of people and businesses going bust has been stabilising, official figures show.
The Insolvency Service said personal insolvencies in England and Wales rose 1% in the second quarter of the year.
Although they went up by 368 to 30,513, personal insolvencies have effectively been flat for the last nine months.
Meanwhile, the number of businesses going bust fell by 5% to 1,232 in the second quarter, though they were still up 22% on a year ago.
Worse to come
Louise Brittain, insolvency partner at accountancy firm Deloitte's, said: "Whilst insolvencies are still commonplace, we are not seeing the severity that we have seen in recent years.
"Low interest rates have gone a long way in helping individuals to keep their finances at a manageable level," she added.
However the insolvency practitioners' trade body R3 warned the situation would inevitably become worse.
"The increase in personal insolvencies is likely to continue; we have seen over recent months living costs rise and high inflation effectively reducing take home pay," said R3.
Chris Nutting, at accountants KPMG, said the official figures underplayed the true situation.
"Our own research has found that over-indebtedness is also leading to an increase in the number of households setting up informal arrangements with creditors - such as debt management plans - in an attempt to settle debts," he said.
"If you combine informal arrangements with the insolvency figures, there may be as many as 250,000 people a year setting up some form of arrangement with their creditors."
Company insolvencies
With the economy growing only modestly in recent months, the number of firms going under fell in the past three months.
David Chubb, an insolvency partner at accountants PwC, said in his experience many firms were experiencing increasing difficulty.
"It seems that there may be a lot of businesses closing down without the need for an insolvency process, because they are making the conscious decision to cease trading before the business reaches the point of no return," he observed.
Brian Johnson, of accountants HW Fisher chartered accountants, reinforced that point.
"Last month, data from Companies House revealed that record numbers of firms are going out of business without formally filing for insolvency," he said.
"This tells us that they have been so badly hit that there is no point even carrying out a salvage mission."