Indonesia looks to tighten rules on bank ownership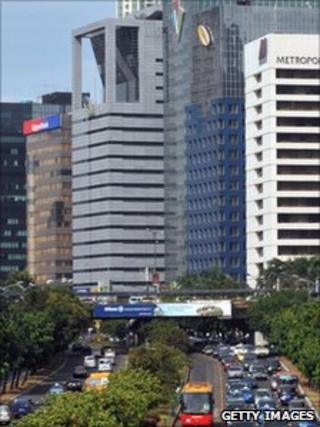 Walk down any of Jakarta's high streets these days, and you're likely to find huge billboards glaring down at you advertising the latest credit card offer from yet another new bank in Indonesia.
Own a Standard Chartered card? Well then expect 15% off at some of the city's finest eateries.
What about HSBC? Then shopping at the children's store Mothercare has never been easier - at one point this year it was offering a 70% discount in conjunction with the bank.
One local Indonesian bank - Bank Mega - even offers half price at Baskin Robbins on a certain day each month.
It's not unusual to meet Indonesians these days who are happy to whip out what seems like a never-ending array of credit cards from their wallets.
These are the new Indonesian middle-class - ready to spend and splash out on everything from fashion to food.
Low rates
And for foreign banks, it's never been a better time to invest in the country. It's thought that about 60% of Indonesia's population has a bank account.
In a country of 240 million people, that still leaves a lot of room for growth.
And Indonesians are now in the mood to spend, and to borrow to facilitate that spending. Interest rates are now at record lows of 6.75%, which is helping to boost domestic consumption in Indonesia, one of the main pillars of the economy.
Take 34-year-old Helmi, for example. A driver in Jakarta, who earns a salary of about $200 (£122) a month, he's taken out a loan from his local bank to help him buy a house back in his village in Central Java.
"My father would have never done this," Helmi says.
"He would have thought taking a loan was dangerous and risky - and how would he have been able to pay it back? These days, people of my generation need more material goods, and we have the means to buy those goods by borrowing money from the bank."
And banks are falling over themselves to get access to customers like Helmi.
Until recently, Indonesia had an open-door policy for foreign banks. In 1999, soon after the banking sector's collapse during the Asian financial crisis, Indonesia's government issued a decree saying that any entity - either local or foreign - could own up to 99% of a bank's shares.
It was a move aimed at attracting more foreign money into Indonesia - something the country desperately needed at the time because it's economy had virtually collapsed during the crisis.
As a direct result, out of more than 100 banks in the country today, approximately one third have at least some form of foreign ownership.
New threshold
But now there are concerns that those stakes could be at risk, because the Indonesian central bank is reportedly considering a proposal to limit any entity's - either local or foreign - stake in a bank to below 50%.
"We are still discussing the proposal," says Halim Alamsyah, deputy governor of Indonesia's central bank.
"No decision has been taken yet. The plan is to put a threshold on the maximum amount of shares any one individual or entity can own in a bank. It will be applied to both local and foreign banks. The objective is to strengthen internal control of the banks."
But analysts say that while in theory the new regulation will affect any major shareholder in a local bank, it will most likely have the biggest impact on foreign owners.
"If this regulation does go through, it would almost certainly push foreign investment away from Indonesia," says Bhavana Vatvani, senior manager with Accenture Financial Services.
"It would send out a negative impression amongst foreign investors, who are really keen to get into this market. Right now, foreign banks that have majority stakes in local banks can decide how they want to run things and who they want in the management - all of the factors that facilitate the smooth running of a banking operation.
"A move like this would make it very difficult for the foreign banking industry."
'Easy access'
There are also concerns that the new regulation will be applied retrospectively - so that foreign banks that signed deals years ago with local banks, and paid large amounts of money to buy stakes in them, would be forced to sell off their current stakes so as to not fall foul of the law.
Chris Wren from the British Chamber of Commerce says a regulation like this, if applied, could bring into question the sanctity of contracts in Indonesia.
But Indonesian politicians who support the new regulation say that Indonesia is just doing what other nations have been doing all along.
"When we want to open our banks in Malaysia or Singapore, we aren't given such easy access to those markets," says Maruarar Sirait, a member of the Indonesian parliament's banking committee.
"Why should Indonesia be the only country in [the region] with such a relaxed attitude to the banking sector? It's our citizens' money that's at stake here, after all. We must protect them."
Protecting assets
This streak of nationalism in Indonesia's economy has become something of a trend recently.
Some Indonesian parliamentarians have even claimed that foreign banks have made it far more difficult for domestic banks to compete in the local market.
But analysts say that's not true - given that some of the banks with the biggest networks around the country remain wholly-owned by Indonesians.
Nevertheless, there does seem to be a move towards protecting the national assets of Indonesia, with more vigilance than was the case during the former president and strongman Suharto's rule.
His government was criticised for giving away lucrative contracts in some of Indonesia's choicest sectors - financial services and natural resources - to foreign investors.
Some foreign businesses say that now there seems to be a backlash in Indonesia against those sorts of regulations - to the point where, at times, foreign companies are penalised just for being foreign.
High margins
Yet some analysts believe this move isn't to scare off foreign investors at all - it's to level the playing field.
"During the Suharto days, overseas companies were allowed to own 100% of a bank," says Lin Che Wei of the Independent Research Advisory Group in Jakarta.
"Indonesia has some of the most attractive margins for foreign banks in the region, if not the world. This move won't send the wrong signal to foreign investors. All it will do is sift out the ones who are serious about being here from those who aren't."
Mr Wei points out that Indonesia has the "perfect three" factors that make for an enticing banking destination - a growing middle class, a favourable interest rate environment, and a very high profit margin for banks, because of the concentration on consumer and retail banking.
"Even with the new regulation, this is a market that's extremely attractive for foreign investors," Mr Wei says.
"It's filled with potential - Indonesia is an opportunity foreign banks cannot afford to ignore."
And that's likely to be what the Indonesian central bank is counting on as it deliberates whether to implement this controversial new proposal.