ECB 'to act' over eurozone debt crisis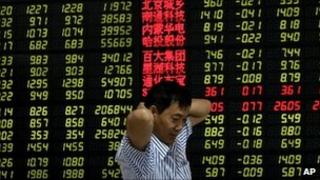 The European Central Bank has said it will buy eurozone bonds, following emergency talks on the debt crisis.
The bank did not say which bonds it would buy but analysts expect them to be from Italy and Spain.
Global stock markets plunged last week because of the twin debt crises in the eurozone and the US.
Shares on Asian markets fell early on Monday, despite assurances by the G7 group of rich countries that they would move to strengthen financial stability.
Before the markets opened, the G7 issued a statement saying it was "determined to react in a co-ordinated manner".
There have been fears that unless leaders can announce a decisive plan of action, shares on global markets could plunge even further.
Downgrade
BBC Business Editor Robert Peston says the ECB was split on whether to buy Italian and Spanish debt.
In a statement following an emergency telephone conference, the ECB welcomed the "decisive and swift" action taken by the governments in Rome and Madrid to cut their budget deficit.
Earlier, the leaders of France and Germany also hailed the action taken by Italy and Spain - the third- and fourth-biggest eurozone economies.
"In particular, they stress the importance that parliamentary approval will be obtained swiftly by the end of September in their two countries," said the statement from French President Nicolas Sarkozy and German Chancellor Angela Merkel.
The two leaders also reiterated their commitment to introducing measures to protect the euro which were agreed at a summit in July.
Downgrade
Monday is the first day major markets are open following the decision by credit rating agency Standard & Poor's to downgrade America's top-notch AAA credit rating to AA+.
S&P managing director John Chambers was quoted as saying on Sunday that there was a one in three chance of a further downgrade within two years.
Italy is the biggest economy to be hit by the eurozone crisis.
The price Italy pays on its government bonds has shot up amid growing doubts it can keep its debt level so high while economic growth is so low.
Spain, too, has been caught up in the crisis - hit by high unemployment, high government debt and slow growth.
There have been fears among investors that both countries could become engulfed in the same cycle that has led to Greece, the Irish Republic and Portugal already being bailed out.
Last week, European Commission President Jose Manuel Barroso said authorities in the eurozone were failing to prevent the sovereign debt crisis from spreading.
Both Italy and Spain insist they can service their debt.
On Friday, Italian Prime Minister Silvio Berlusconi said he was bringing forward austerity measures and would balance the government budget by 2013, one year ahead of schedule.
Last week the ECB bought Irish and Portuguese bonds but not Spanish and Italian debt.
Some analysts argue that investors expected the bank to buy Italian and Spanish debt soon after the eurozone leaders summit on 21 July, and the fact that it has not has undermined confidence in the markets.
S&P, one of the world's three major rating agencies, failed to be impressed by a last-minute deal in the US last week to raise the US debt limit by up to $2.4tn (£1.5tn) from $14.3tn.
A potential US government default on its debt was only avoided after months of wrangling between Democrats and Republicans in Congress.
The credit rating downgrade is seen as a major embarrassment for President Obama's administration. It could also raise the cost of US government borrowing.