Japan's current account surplus plunges in June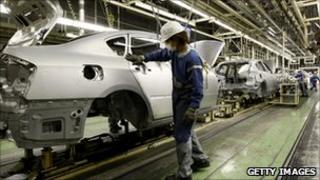 Japan's current account surplus fell more than expected in June as exports continued to suffer in the aftermath of the earthquake and tsunami.
The surplus was 526.9bn yen ($6.7bn; £4.1bn) in June, a 50.2% plunge from a year earlier, the latest data showed.
However, figures showed the rate of decline in exports has been slowing, indicating a recovery in the sector.
Exports in June fell 1.1% from a year ago, compared with a 9.8% decline in May.
"Japan's exports are picking up rapidly after the quake and tsunami," said Masamichi Adachi of JP Morgan Securities in Tokyo.
"The surplus will start to rise as we enter the second half of the year," he added.
Growth concerns
While the latest figures indicate that the economy has been recovering from the aftermath of the quake and tsunami, analysts warn that medium to long-term outlook remains bleak.
As developed economies like the US and Europe continue to struggle with various economic issues, demand from those key markets is likely to slow down, say forecasters.
"Weakening of the global demand is a key threat to Japan's exports," said JP Morgan's Mr Adachi.
He says the current numbers are encouraging because they were being compared with a low base after the quake and tsunami.
However, once the economy reaches its pre-quake levels, the declining global sentiment is likely to have an impact on growth.
"You can argue that by the end of the year we will see that recovery in Japan's exports may see some stagnation," Mr Adachi added.
Falling market share?
The uncertainties surrounding the global economy are not only likely to hurt demand for Japanese exports but also to have an impact on the sector's competitiveness.
With the US dollar weakening and the future of euro being called into question, investors have been shifting their focus to traditional safe havens like the yen and gold.
That has seen the Japanese currency rise by as much as 12% against the US dollar in the past 12 months.
Worried by the impact of a strong currency on its export-dependent economy, last week, the Japanese government intervened in the currency markets in a bid to weaken the yen.
Analysts warned that if not controlled in time, a rising yen could cause huge damage to Japan's exporters.
"The immediate risk is that they may lose their market share as their goods become more expensive compared to the competitors," said Mr Adachi.