UK house prices: 'Pessimism' stalks market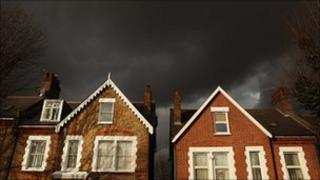 Surveyors are "pessimistic" about UK house prices in the next three months following a slight fall in property values in July, a survey says.
Some 13% more surveyors expect prices to fall rather than rise in the next quarter, the Royal Institution of Chartered Surveyors (Rics) said.
The predictions come amid a period of sluggish activity in the market.
London is still bucking the national trend, with prices having increased in July and predicted to continue rising.
'Inaccessible' finance
The findings suggested that, in most of the UK, would-be buyers were being put off by large deposits being demanded by lenders.
Potential sellers were unwilling to accept lower selling prices and so were reluctant to enter the market.
"While the holiday season appears to have had some impact on the market, the continual problem of inaccessible mortgage finance is still preventing first-time buyers from accessing the market," said Ian Perry, of Rics.
"Unsurprisingly, with prices continuing to fall, many would-be sellers seem unwilling to lower their expectations and are reluctant to place their property on the market."
A spokesman for Capital Economics said: "The survey makes dispiriting reading on any level. The latest falls in house prices will further dent confidence among homeowners.
"However, to date, the falls have done little to help first-time buyers. The fall in sales, meanwhile, will be worrying for any parts of the economy heavily reliant on housing market turnover."
The data will come as bad news for those who have borrowed more in a mortgage than the value of their home.
On Monday, the Council of Mortgage Lenders (CML) calculated that 827,000 mortgage-holders were in negative equity, although this was lower than the estimated 1.6 million households in the same situation in the early 1990s.