Greggs warns of 'challenging' trading as profits fall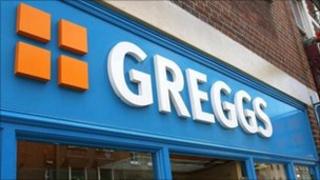 Bakery chain Greggs has reported a fall in profits after experiencing tougher-than-expected trading conditions.
The 1,500-strong chain saw pre-tax profits before exceptional items fall to £17.3m in the six months to 2 July, down from 18.6m the year before.
Total sales rose 4.2% to £335m, from £321m, although like-for-like sales were up 0.4%.
Trading was "more challenging than we had expected" said Greggs, adding that things were unlikely to improve soon.
"We do not anticipate that the second half will bring any alleviation of the tougher consumer spending environment with disposable incomes remaining under pressure," the company said in a statement.
Pre-tax profit including exceptional, or one-off, items was £24.7m, against £18.6m last time.
Greggs made an exceptional profit of £9.7m on changes to its pension scheme. This was offset by an exceptional loss of £2.3m for restructuring costs.
The Newcastle-based company said it had seen a sharp rise in commodity prices and was looking to dampen the impact through cost savings and promotions.
Despite the trading conditions, Greggs said its expansion plans were on track. The firm opened 39 stores during half-year period, leaving it on track to open 80 outlets in the year.