UK manufacturing output falls and trade deficit widens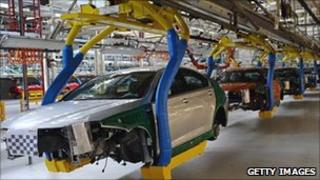 Fresh economic data has underlined worries over the strength of the UK economic recovery.
UK manufacturing data fell by 0.4% in June, the Office for National Statistics (ONS) said, compared with a 1.8% increase in May.
Analysts had been expecting June's manufacturing output to have risen.
Separate figures from the ONS showed that the UK's trade deficit in goods and services widened to £4.5bn in June, up from £4bn in May.
There was surplus on trade in services of £4.4bn, unchanged from May. But this was offset by a larger deficit on trade in goods of £8.9bn, compared with a deficit of £8.5bn in May.
Support needed
While manufacturing output fell in June, the wider measure of industrial production - which includes utilities and oil and gas production - was unchanged on May's figure.
In the three months to June, industrial output fell 1.6%, which was worse than the earlier estimate of a 1.4% fall.
However, the ONS said the worse-than-expected figure would not have a significant impact on the estimate of second quarter GDP growth.
David Kern, chief economist at the British Chambers of Commerce (BCC), said: "The fall in manufacturing in June was disappointing and worse than expected."
"While the government perseveres with implementing its tough fiscal programme, everything must be done to support the manufacturing recovery and ensure there are no setbacks."
Analysts added that the recent sharp falls on the world's stock markets could also have an impact.
"The worry is that plunging equity markets will hurt business confidence and lead to firms cutting orders thus prompting further falls in output," said James Knightley, an economist at ING.