Policymakers must act to avoid recession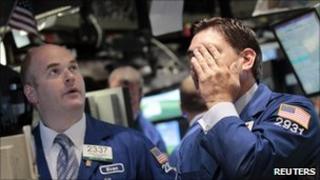 Even before the current collapse in share prices there were worries that recovery in some of the world's leading economies was running out of steam.
On Monday the OECD's monthly composite indicator - an index of various economic trends in 33 countries - eased back for the third straight month.
But the OECD's lagging indicator takes no account of the latest crisis, in which sovereign debt worries and fears that Europe and the US are headed back into recession sparked a rout in the markets.
If things were bad before, brace yourself for even worse, seems to be the message in the financial markets.
"What we need is a really strong steer from policymakers that they have got a strategy," said Karen Ward, senior global economist at HSBC bank.
"But there is a feeling that none of our policymakers seem to have control of the situation," she said.
HSBC has yet to produce its next quarterly report on global growth, but there are plenty of signs of what it could contain.
"It is pretty obvious that there is more pessimism around this quarter than there was last quarter. Data on the global economy is poor," she said.
Downgrade
On Thursday the Bank of England is expected to revise down its UK growth forecast when it releases its latest inflation report.
Figures released on Tuesday showed that German exports, a key driver of the nation's growth, fell in June.
The French economy is weakening. The US, where recent growth and consumer spending figures have been surprisingly poor, has caused particular concern - capped by last week's downgrade of the country's prized AAA rating.
It is possible that the financial markets, bolstered recently by relatively good corporate earnings figures, have suddenly woken up to the deep-seated problems of sovereign indebtedness.
"This is a crisis of political leadership, not company earnings," said Mike Lenhoff, chief strategist at Brewin Dolphin. "Policymakers have to confront their sovereign debt crisis."
Writing in the Financial Times, the economist Professor Nouriel Roubini, said: "There is a rising risk - approaching 50% now - of a double-dip recession in the US and most advanced economies."
So what can be done? Pumping more money into economies through quantitative easing (QE) is increasingly being talked about as essential in both Europe and the US.
It would certainly be a "small price to pay" to avoid the collapse of the euro or plunge in recession, says HSBC's chief economist Stephen King.
Prof Roubini fears that policymakers are fast running out of options, but urges the European Central Bank to reduce interest rates to zero and make big purchases of government bonds.
'Too little, too late'
America perhaps faces even more difficult choices. The recent clash between the Obama administration and Congressional leaders over the US debt makes any decision to raise spending or taxes another potential flashpoint that will further unsettle the markets.
As in Europe, any QE is America will add to inflationary pressures. Prof Roubini believes the US Federal Reserve will eventually agree another QE programme - its third - but this may be "too little, too late".
In the eurozone, calls for tighter integration are gathering political momentum. Germany's Foreign Minister, Guido Westerwelle, said that the eurozone is "facing a forked road".
The choice is between "less Europe" or "more Europe" he told the BBC. "We think it is necessary to answer this crisis with more Europe," he said.
Such a plan could involve expanding the eurozone's bailout fund massively, perhaps to as much as two trillion euros, and to guarantee the debt of countries such as Portugal and Italy.
In return these countries would have to accept more central control over their tax and spending. Such a solution was ruled out by eurozone leaders - but that was before the current markets meltdown.
The markets are telling policymakers "they want to see a more decisive move towards fiscal integration", said Jonathan Loynes, chief economist at Capital Economics. "The indebted economies are not returning to growth. They are not getting a grip on their finances."
The markets are rapidly "losing faith" in policies that just "muddle through", he said.