Federal Reserve expects not to raise rates until 2013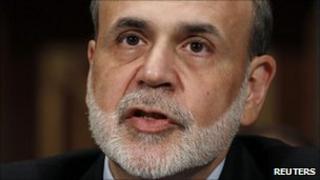 The US Federal Reserve has said it expects to keep interest rates at their current low levels until at least the middle of 2013.
The US central bank admitted in its announcement that America's economic growth this year had been "considerably slower" than it had expected.
It did not say whether it was considering more quantitative easing.
This is the policy of injecting new money into the financial system to try to boost the economy.
Some analysts had hoped for the Fed to announce a third stage of quantitative easing.
The main US share index, the Dow Jones, fell 0.5% immediately following the announcement, which was released after the latest meeting of the Fed's open policy committee in Washington DC.
However, it then went on to recover to close up 4%.
Unemployment concerns
Greg McBride, economist at Bankrate.com, said: "There is a definite undertone of significant economic concern from the Federal Reserve."
US interest rates have remained at between 0% and 0.25% since December 2008.
With the US unemployment rate remaining above 9%, the Fed also warned in its statement that labour market conditions had shown a "deterioration" in recent months.
It added that household spending had "flattened out".
However, it said inflation had now moderated, as energy and commodity prices had declined from earlier highs.
Despite the Fed's overall opinion that inflation had now cooled, three of the 10 members of its open policy committee voted against keeping rates on hold over concerns about higher prices.