Walt Disney profits up 11% on TV advertising revenues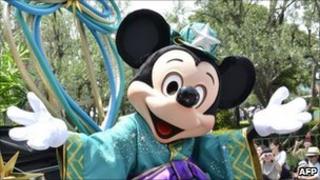 Walt Disney's quarterly profits have risen 11%, led by strong advertising revenues at its cable TV networks.
Net profit at the US entertainment giant totalled $1.5bn (£907m) in the three months to 2 July, up from $1.3bn a year earlier.
Revenues at its ESPN and ABC television stations rose 5% to $5bn.
Yet those at its film studio division fell 1% to $1.6bn, despite the box office success of the fourth Pirates of the Caribbean movie.
Disney's group-wide revenues rose 7% to $10.7bn, also helped by increased sales at its global theme parks.
Analyst Barton Crockett of Lazard Capital Markets said Disney had enjoyed "a good, solid quarter".
In the previous quarter Disney saw profits fall following a weak performance by its Mars Needs Moms film.