China's trade surplus jumps 41% as exports gather pace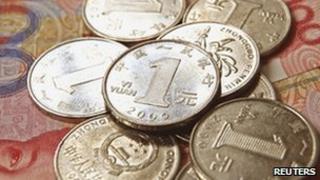 China's trade surplus surged in July as exports gathered pace despite concerns of a slowdown in the global economy.
Shipments from the mainland grew by 20.4% in July from a year earlier, according to China's customs agency.
Imports grew by 22.9%, resulting in a trade surplus of $31.5bn (£19.3bn), up from $22.3bn in the previous month.
Analysts said the bigger-than-expected surplus will once again see the focus shift to China's currency policy.
China's trading partners have accused it of keeping the value of its currency low, making its good cheaper to foreign buyers, in a bid to boost its export sector.
Stephen Green of Standard Chartered said there was an obvious need for the yuan "to appreciate faster."
"As China slows, the trade surplus is getting bigger," he added.
Growth concerns
While the latest export numbers make for good reading, analysts warned that growing concerns about a slowdown in the global economy may hurt growth in coming months.
"China's trade sector is still facing great uncertainties," said Nie Wen of Hwabao Trust.
"Developed countries are forced to take austerity measures, and emerging markets may tighten as well to tame inflation," he added.
Worries that the US may be falling back into a recession and ongoing debt issues in Europe have seen huge volatility in stock markets in the past few days.
Global markets witnessed one of the worst sell-offs in recent times, before bouncing back.
Analysts said the impact of that will be felt on trade numbers as well.
"The global financial market turbulence may lead to a contraction in external demand, which could further weigh on export growth." said Li Xunlei of Guotai Junan Securities.