Groupon's losses rise sharply as it takes on more staff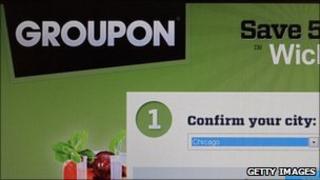 Daily discount website Groupon has seen its losses increase sharply after it took on an extra 1,000 members of staff to continue its fast-paced expansion.
In the three months to 30 June, the net loss at the US firm rose to $102.7m (£64m) from $36.8m a year earlier.
Groupon's revenues increased tenfold to $878m from $87.3m a year ago.
The company's administration costs totalled $273m during the quarter, while its marketing bill hit $170.5m. Groupon now employs 4,800 people.
Groupon offers daily discounts to members on items ranging from meals out and beauty treatments to flying lessons.
Some analysts have questioned the company's business model, which relies on a large workforce.
Others have wondered if Groupon is growing too quickly.
Groupon announced in June that it plans to raise up to $750m through a share flotation.