Heathrow airport sees record passengers in July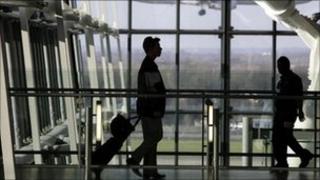 London's Heathrow airport saw a record 6.9 million passengers in July, according to its owner BAA.
The month also included the airport's busiest day in its history on Sunday 31 July, BAA said.
Passenger numbers were up 2.5% from a year ago as the summer holidays got into full swing.
BAA said its three Scottish airports - Glasgow, Edinburgh and Aberdeen - all saw passenger growth, but at Stansted numbers fell 7.2%.
For BAA as a whole, passenger numbers rose 0.8% to 11 million.
The firm offered no explanation for the drop in numbers at Stansted, which handles a large number of short-haul budget flights.
Heathrow's figures reflected a broader trend of declining domestic air traffic.
Total domestic passengers at the airport were down 13% from a year earlier, thanks to a 16% cut in seating capacity by the airlines.
But international air traffic more than made up the shortfall, led by a 5.4% increase in traffic to North America and an 80% surge in travellers to and from Brazil.
"The growth in passenger traffic at Heathrow in July is good news for UK jobs, tourism and growth," said Colin Matthews, chief executive of BAA.
"Heathrow's unique role in linking the UK to the world's emerging markets is vital to Britain's economic recovery."