Anheuser-Busch InBev profits from price rises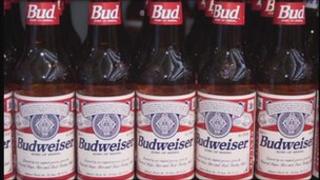 Anheuser-Busch InBev (AB), the world's largest brewer, has reported a rise in profits as price rises helped to offset falling demand in the US.
Net profit for the second quarter was $1.45bn (£895m), up 26% on the $1.15bn the company made a year earlier. Revenue rose 8% to $9.95bn.
The owner of Budweiser and Stella Artois said US sales were hit by bad weather. Sales in Brazil also fell.
But volumes in Asia grew sharply, with beer sales in China up 12%.
"China has over the last couple of quarters turned into quite a good story for them," said Wim Hoste at KBC Securities.
Cider boost
Falling volumes in some regions were due in part to strong sales a year earlier during the Football World Cup, the brewer said.
It also pointed to higher fuel prices and their knock-on effect on consumers' disposable incomes as an important factor in falling US sales.
Beer sales in Brazil, a key market for the company, fell by 2.6%, while sales in the UK fell by 16.9%.
Elsewhere in Europe, particularly in Germany, sales grew.
The biggest gains were recorded in Asia, and particularly China.
Global sales of Stella Artois were up slightly, helped by the launch of the brand's cider in the UK. Stella Artois Cidre has gained a 12% share of the premium cider market according to industry data, AB reported.