British Airways launches pilot recruitment drive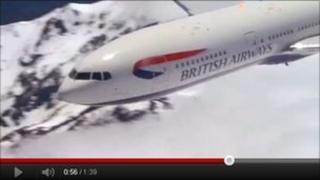 British Airways plans to hire 800 new pilots by 2016, with half of the places being offered to first-time trainees.
BA said it was the biggest hiring campaign by the carrier in 10 years.
The airline has posted a YouTube video in the hope of attracting young applicants to a pilot training scheme it is sponsoring.
The other positions will be filled by pilots poached from rival firms, and ex-military pilots to be retrained by BA, working with the UK armed forces.
The planned hirings are equivalent to a quarter of BA's 3,200 total number of current pilots.
'Fairer' approach
BA said that its "future pilot programme" aimed to hire 400 trainees.
The cost of training - which BA says can be up to £100,000 per pilot - will be financed by the airline, but repaid by the recruited pilots later in their careers.
"By removing the barrier of initial training costs and making it more accessible to a wider range of people, we hope to attract the very best talent out there," said Captain Robin Glover, BA's head of pilot recruitment.
The pilots' union - British Airline Pilots' Association (Balpa) - said it was pleased that BA "is allowing the best pilots, not just those with the most money, to fly for them".
A Balpa spokesman said the union had been warning for some time that a recruitment freeze by the industry since the recession risked leaving airlines short of personnel in coming years.
"We believe that the pool of pilots should be made up from the most able and talented, not from those who can afford these huge fees," the union said in a statement.
It said BA's new approach to financing the training costs was "if not best practice, then a lot fairer than some alternatives being offered around the industry".