England riots: Pay issues for riot-damaged shops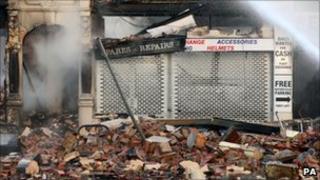 Businesses that were damaged and closed as a result of riots in English towns and cities might still have to pay the wages of staff.
Only those who have a "lay-off clause" in their contract will have work and pay halted as a result of the problems, lawyers have explained.
And one lawyer said it could be difficult for employers to sack the rioters themselves.
The government has announced a fund to assist businesses to rebuild.
Deadline
The unrest, which began on Saturday before spreading to various areas of England in the following nights, left many homes and businesses damaged. Insurers have promised to get the rebuilding process under way swiftly.
Uninsured firms and householders will be able to make a claim to their local police authority under the Riot Damages Act to cover the cost of getting their property back to normal.
On Thursday, Prime Minister David Cameron said that a £20m support scheme would assist in paying for this, while the deadline for claims would be extended from 14 to 42 days.
But businesses might still have to pay staff, or be "creative" in working around temporary closures, according to Peter Mooney, head of consultancy at the Employment Law Advisory Service Limited.
Many employees would not have a lay-off clause in their contracts and so should continue to be paid.
But employers should talk to these members of staff, perhaps encouraging them to bring forward any paid leave instead, he said.
Meanwhile, Andrew Brown, a senior solicitor in Anderson Strathern LLP's employment unit, said that some businesses might find it difficult to sack anyone involved in the riots or looting for misconduct.
This was because it occurred outside the workplace and might not directly affect the reputation of the business.