Black Country pins hope on enterprise zones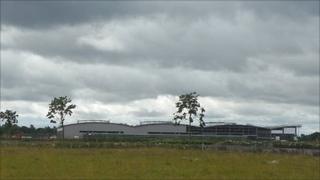 You would not give it a second glance if you were driving past junction two of the M54.
But there is a very large plot of land here called the I54, which the Black Country is pinning its hopes on.
It is one of two sites that this corner of the West Midlands is hoping to turn into an enterprise zone.
There are 21 of them planned in locations across England.
Enterprise zones are the government's flagship policy to drive regional growth and create new jobs.
For Stewart Towe, it is an opportunity too good to miss.
"This has the potential to generate about 10,000 jobs," says Mr Towe, a successful businessman who is leading the Black Country's efforts to secure an enterprise zone.
"That's not just in the zone itself, and the supply chain opportunities it will generate, but across our region."
The enterprise zones will be able to offer new businesses tax breaks worth up to £275,000, simplified planning and super-fast broadband.
'High cost'
Here in the Black Country they have decided to focus on their roots.
They want their zone to become a place of advanced manufacturing for the automotive and aerospace industries, supplying skilled and semi-skilled jobs for the future.
The real prize is persuading a big hi-tech manufacturing company to move in.
They are determined not to repeat the mistakes of the past.
Like many other areas, they have had an enterprise zone before - in Dudley, just a few miles down the road.
It was one of the first wave of enterprise zones created by the Thatcher government back in the early 1980s.
A derelict former steelworks site was slowly turned into a huge retail park, with the help of big tax breaks for capital spending.
What happened here was fairly typical.
Over a cup of coffee in the bustling Merry Hill mall, John Rider, chairman of the Institute of Directors in the West Midlands, explains the legacy of those early schemes.
"I think the concept of enterprise zones was reasonable enough, but the reality was they displaced a lot of jobs," he reasons.
"This place here, it's got lots of good retailers, but they did close stores around the place so new net jobs were a lot less than claimed at the time, and the cost of creating those jobs under the old system was also very high."
Delivering growth
Trying to ensure that new net jobs, and the right kind as well, are created is the big challenge for everyone.
Second time round, these new enterprise zones are being located in areas that are already deemed to have high growth potential.
The I54 park, for instance, is no derelict urban wasteland in need of a turnaround. It is a prime development site, landscaped and ready to go. An aerospace factory is already being built next door.
These zones are also being driven by the newly-formed local enterprise partnerships - groups of public bodies and businesses. It is the first real test for them.
"The main thing is that it mustn't become a site used for storage and warehouses," says Charles Green, the director of education and enterprise at Wolverhampton City Council.
"That doesn't create a lot of employment. We have no intention of that. We want people to come here on a permanent basis, who will grow and expand their businesses and really contribute to our communities."
With one of the highest unemployment claimant counts in the country, they are crying out for new jobs here.
For the government, too, there is huge pressure to deliver growth. It has a lot riding on these enterprise zones. Expectations are high, possibly too high.
No magic bullet
For Andy Micklewright, joint managing director of family steelworks Micklewrights Structures, the real barrier to growth is lack of bank lending.
"I had to turn down a £600,000 order, which I tendered for and won, because I couldn't secure the finance," he cries over the noise of steel being ground.
"It's very, very frustrating."
Mr Micklewright says he would welcome any new initiative that would give a big push to manufacturing, though he points out that what he needs is improved economic conditions now, not in the future.
These enterprise zones are no magic bullet. And the results will not be instant, either.
They know all that here in the Black Country. Yet, they are determined to give it their best shot.
"We've been given a set of cards to play. We're playing those cards to the best of our ability," says Mr Towe.
"We can attract the right sort of advanced engineering to this site and to the area in order to develop business generally across the Black Country.
"We believe it is an opportunity."