Nasdaq official jailed for insider trading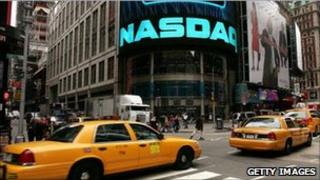 A former managing director of New York's Nasdaq exchange has been sentenced to three-and-a-half years in jail for insider trading.
Donald L Johnson had pleaded guilty to charges of insider trading in May.
In his position Mr Johnson regularly spoke to companies about upcoming announcements that could affect their share price.
He is accused of using this information nine times to buy and sell shares in advance of news coming out.
The 57-year-old former managing director made more than $750,000 (£469,000) in profit from the trades.
"Mr Johnson used his position at Nasdaq to make quick profits from sensitive information," said Neil MacBride attorney for the eastern district of Virginia.
Mr Johnson apologised for his actions.
"I'll shoulder the remorse for the remainder of my life," he wrote to the judge.