Inflation: Gauging views on rail fare rises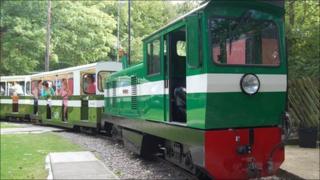 With fares frozen and the most expensive return ticket priced at £2.50, many commuters may wish their service was being run by the volunteers at Ruislip Lido Railway.
But even here on the two-and-a-half mile miniature woodland railway, there are budget pressures to cope with as diesel costs rise.
"If we put up prices, people will not come," says Murray Bolter, a volunteer for 14 years, as he guides dozens of daytrippers along the narrow platform.
This 12-inch narrow gauge railway carries engines that reach speeds barely above walking pace, but Mr Bolter also drives trains that hurtle along busy commuter routes.
On these regular rail services, passengers now know how much extra they will have to pay to be transported on Britain's rail network to and from work.
July's inflation figures are used to calculate the annual rise or fall in regulated fares - including season tickets.
Based on the Retail Prices Index (RPI) measure of inflation, plus 3%, an average 8% fare rise can be expected in 2012. Flexibility for rail companies means fares on some routes could rise by up to 13%.
'Little choice'
Sitting on the Lido line ready for the 3pm departure with Joseph, her two-year-old son, Hannah Byles says she feels for those people who need to use trains or trucks for work.
"It can break people, the cost of it," she says. Her husband uses a van for work in the flooring trade and has little choice but to keep taking on extra transport costs.
"People just have to swallow these prices, because it is a means to an end to get to work," says carriage companion Louisa Parascandalo, whose husband initially had to use a credit card to pay travel expenses.
The formula for rail fare rises is changing from RPI plus 1% to RPI plus 3% for three years, raising fears among campaigners that rail travel will become increasingly unaffordable.
The Campaign for Better Transport says that passengers are already facing squeezed household budgets.
Families enjoying the sunshine on the park next to the miniature railway say it is food and fuel - rather than rail fares - that is causing the biggest headache for their budgets.
'Shocking'
Inflation figures show that these factors were again key to the government's Consumer Prices Index (CPI) target of 2% being missed, with CPI accelerating to 4.4% in July.
Jo Barker, 28, the mother of 15-month-old Ella, was recently made redundant. She says that the rising cost of petrol and motor insurance means she and her husband can no longer afford to run a car each.
At a family picnic a few yards away, Charmaine Touzalin says nursery costs are rising, even though there is some help from the government.
But the whole family has noticed that food prices have risen, especially for those trying to keep to a healthy diet. Essentials such as toiletries have also increased in cost, they say.
"You become resigned to the fact that everything is more expensive," says dad Steve Tillyer, a 43-year-old account manager.
CPI inflation is on course to hit 5% this year, according to the governor of the Bank of England, Mervyn King.
But he repeated in a press conference a week ago that the Bank still expects the inflation rate to fall next year.
Analysts say that pensioners are among those hardest hit by inflation rate increases, as much of their income is spent on essentials such as food and fuel.
Retired draughtsman Don Grange says he is more shocked by, than resigned to, price rises on staple foods such as a bag of potatoes.
The 76-year-old, relaxing with a cup of coffee on a park bench, says he is now bracing himself for his gas and electricity bill, after the latest round of tariff increases.
As for the railways, he says - with hindsight - they should never have been privatised.
But the focus among passengers today will not so much be about decisions of the past, but fare rises of the future.