George Soros backs joint eurozone debts to solve crisis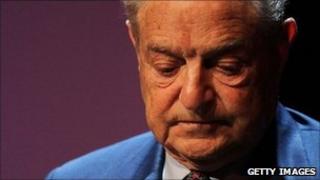 George Soros has backed "eurobonds" - joint debts of the 17 eurozone members - to solve the eurozone debt crisis.
Speaking to the BBC, the billionaire investor said if European leaders fail to keep the euro together, there would be a "really serious global calamity".
He said the bonds would cut borrowing costs for heavily-indebted governments, but could be made conditional on them putting their finances in order.
Germany has publicly opposed the idea, while Italy has strongly backed it.
The Hungarian-American financier - who sponsors liberal democracy in developing countries and is close to the Democrats in the US - has regularly commented on government policy responses to the global financial crisis since it erupted in 2008.
In his latest initiative - which includes an opinion piece in the Financial Times - Mr Soros says the eurozone must adopt eurobonds as part of a comprehensive solution to solve the crisis.
The bonds would be guaranteed by all 17 countries in the single currency, including Germany.
The idea was first proposed by Brussels-based think-tank Bruegel.
Berlin has balked at the idea, which it believes would weaken incentives for heavily indebted governments to get their finances in order, and would put Germany on the hook for other countries' debts and therefore increase Germany's own borrowing cost.
Germany's chancellor, Angela Merkel is due to meet with French President Nicolas Sarkozy on Tuesday to discuss solutions to the debt crisis, but Germany has denied that eurobonds will be on the table.
However, Mr Soros disagrees with the Germans.
He told the BBC that while eurobonds would make it much cheaper for countries like Greece and Italy to borrow, they could also give the eurozone a "strong stick" by denying governments the right to use eurobonds if they did not carry out necessary financial reforms.
Italian Finance Minister Giulio Tremonti has described the bonds as the "master solution" to the debt crisis.
But Mr Soros acknowledged that the move would inevitably lead to greater integration of government budgets - including a European finance ministry - and that there was a lack of democratic legitimacy in Europe for this.