Former Morrisons chairman Ken Morrison fined £210,000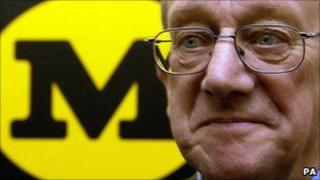 The Financial Services Authority (FSA) has fined former Morrisons chairman Sir Ken Morrison £210,000.
The fine is for failing to inform the market when he reduced his shareholding in the supermarket chain after his retirement in 2008.
Shortly after retiring, Sir Ken held 6.38% of the voting shares of the supermarket that his father founded.
By 2010 that holding had been cut to 0.9%, but the FSA said Morrisons had not been informed of the sales.
Notification should have been made when the holdings were cut below 6%, 5%, 4% and 3%.
The FSA said that Sir Ken had not gained financially from the sales, but that it meant the market had been misled about the ownership of voting rights in Morrisons.
His penalty was reduced by 30% because he co-operated with the investigation and agreed to a settlement at an early stage.