Pocket money up after seven years, Halifax says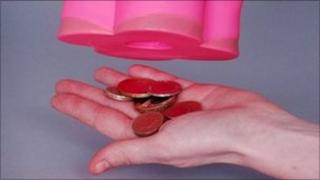 Pocket money for children has risen for the first time in eight years but only by 36 pence a week, the Halifax says.
The bank's annual survey suggests that the average amount received by eight to 15-year-olds now averages £6.25 a week.
That meant a 6% increase in the past year, but it was still less than the average £8.37 a week parents paid in 2003.
The Halifax said there had been no change in the proportion of children, 83%, who received pocket money.
The value of pocket money had been going down for the seven years before 2010.
"Not surprisingly, 12-to-15-year-olds earn significantly more (£7.30) pocket money than eight-to-11-year-olds (£5.05), with 15-year-olds topping the table at £8.38 per week," said the Halifax.
"It is interesting to observe that despite the current economic climate the number of children who receive pocket money has remained the same."
The Halifax based its calculations on a survey of 1,202 children aged eight to 15.