SABMiller to go hostile with $10bn Foster's bid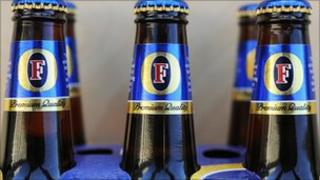 Brewer SABMiller has announced plans to make a second bid to take over Foster's Group, Australia's biggest brewer, this time direct to shareholders.
The board of Foster's rejected SAB's initial 9.5bn Australian dollars ($10bn; £6.1bn) offer in June, saying it was too low.
SAB, which owns brands such as Grolsch and Peroni, said the bid was attractive and should be put to shareholders.
Foster's has been the subject of takeover rumours since last year.
"As there has been no willingness to engage in relation to SABMiller's proposal on the part of the Foster's board, SABMiller has decided to make an offer to Foster's shareholders directly," the UK-based company said in a statement.
There have been talks of a takeover of Foster's since it announced plans to break up the company into two parts last year.
The brewer spun-off its troubled wine business, which had been seen as deterring potential suitors.
Foster's beer operations and the wine business, Treasury Wine, were listed separately in May.
Any purchase of Foster's by SAB will not include the Foster's lager brand in the UK and Europe, where it is owned by Heineken.
SABMiller shares ended Wednesday 1% higher at 2,139 pence.
Its bid values Foster's at $4.90 per share. The Australian company's shares closed at $4.96 on Wednesday.
Foster's shares peaked at $5.21 in June after it rejected SABMiller's initial bid approach.
SAB must gain the acceptance of at least 90% of Foster's shareholders for the takeover attempt to succeed.