S Korea's Woori sale may collapse on lack of bidders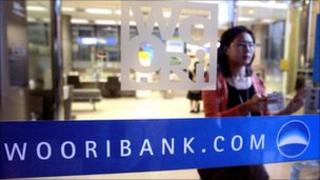 South Korea may halt plans to sell its state-owned banking firm Woori Finance.
Regulators said they will decide on Friday whether to go ahead with the sale, which hopes to raise as much as $5.1bn (£3.1bn).
Korea may revise its plans after failing to attract enough bidders.
The privatisation, which would be one of Korea's biggest, comes at a time when global financial markets and asset prices are under intense pressure.
Also, Korean voters are said to be increasingly opposed to the sale of state assets to private equity firms.
"It won't be politically popular ahead of the general elections next year," said Shaun Cochran, head of Korea research at CLSA Asia Pacific.
He added that he expects the sale plans to be put on hold because of the risk of "a popular backlash to the move".
Second time
Woori is South Korea's largest financial holding company and was created in 2001 to oversee financial companies that required a government bailout following the 1997-1998 Asian market crisis.
The government tried to sell its Woori stake in December last year, but suspended the offer because there wasn't enough interest.
Korean officials said more than two bidders were needed for the sale, which would be the nation's biggest bank privatisation.
"The situation is quite different from what we imagined," said Peter Cheong, a spokesman for Korea's Financial Services Commission. "We don't know if we can just go ahead with the sale or not."
He said that the recent market volatility had impacted the privatisation process after a number of firms decided not to submit bids.
"Investors are reluctant to make investments at this point, which is quite different from a few months ago," Mr Cheong explained.
According to reports by news agencies including Reuters and Bloomberg, the only group to submit a preliminary bid for Woori by Wednesday's deadline was local private equity firm MBK.
Rival private-equity firms Vogo Fund and TStone had shown interest but did not submit a bid, the reports claimed.
Government options
President Lee Myung-Bak had pledged to reduce the government's ownership in the company in order to recoup the public money that was spent in the original bail outs.
CLSA's Mr Cochran, who wrote a report on the Woori sale, thinks the government now has three options.
These include breaking up Woori and selling the subsidiaries or placing blocks of shares into the financial markets.
The third option would be a populist measure widely discussed in the Korean press which entails selling shares in the company to low-income families at a significant discount.