US inflation sustained by tobacco and truck prices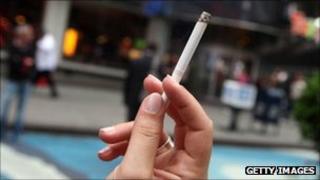 The rising cost of tobacco and trucks helped sustain US wholesale price inflation in July, new data shows.
The cost of finished goods rose 0.2% last month, according to the US Labor Department, leaving them up 7.2% over the last 12 months.
Tobacco prices, which are seasonal, rose 2.8%, while supply disruption from the Japanese earthquake pushed the cost of light trucks up 1%.
Most economists still expect inflation to fall back in the coming months.
Potatoes
In particular, market prices for many natural resources have slowed in recent months, and this has yet to feed through to the price of finished goods.
Crude oil prices have steadily subsided since a Libya-related spike in the Spring, and this was reflected in the cost of petrol, which fell for the second month in a row, according to the new data.
Weaker demand has also weighed on petrol prices, with spending by US drivers having fallen for 21 consecutive weeks, according to separate data from MasterCard.
Food prices however accelerated, notching up a 0.6% rise in July, thanks partly to a jump in the cost of potatoes.
The "core" inflation rate - which strips out volatile food and energy costs, and is closely watched by economists for longer-term trends - rose 0.4% in the month.
That was twice what analysts had expected, and a source of concern to the Federal Reserve.