Chinese internet video firm Tudou drops 12% in US debut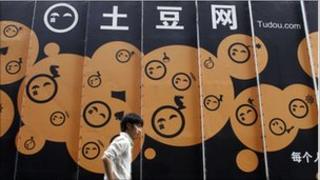 Chinese online video site Tudou dropped on its US stock market debut on Wednesday, showing appetite for Chinese technology stocks may be waning.
Tudou, which is similar to video-sharing site Youtube, closed 12% below its offer price on the Nasdaq index.
It was the first company to go public since last week's market volatility.
Rival Youku.com, which is China's biggest online video site, more than doubled in value on its New York Stock Exchange debut last year.
This strong performance led several Chinese technology companies to try and replicate its success. Among the companies that looked to tap into US investor demand were Chinese online dating site Jiayuan and Chinese social network firm Renren.
Renren, which models itself as a Chinese facebook, jumped 29% on its US debut in May. Jiayuan, China's biggest dating website, fell 4.4% on its first day of trade.
However, some investors have grown wary of buying into Chinese stocks following a number of high profile accounting issues and questions over the strength of economic growth both inside and outside of China.
"We had a nervous market about Chinese stocks to begin with, and many of them really have gotten hammered," said David Menlow of IPO Financial.
Tudou's weak performance may make investors even more wary of buying into Chinese companies that have listed their shares in the US, he said.
Tudou raised more than $174m (£105.3m) in its public offering by pricing its shares at $29 each.
The Shanghai-based company is one of the most popular websites in China and has more than 90 million registered users. However, it has been unable to turn a profit and lost more than $54m last year.