Mortgage lending subdued but stable, lenders say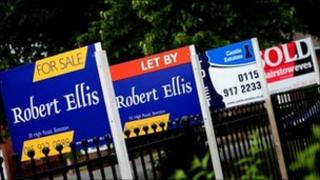 Mortgage lending shows no sign of picking up, according to the latest figures from the Council of Mortgage Lenders (CML).
Gross new lending, for both house buyers and those remortgaging, fell by 1% in July to £12.6bn.
That was also 6% down from the figure for July last year.
The CML described the property market as "subdued, but pretty stable" and warned that sales might fall in the coming months.
The CML's chief economist, Bob Pannell, said: "Underlying house purchase activity may drift lower over the coming months.
"UK economic prospects have deteriorated as a result of weaknesses in some of the major economies and renewed stresses in the eurozone area associated with the sustainability of government finances.
"As a result, UK interest rates look like staying lower for longer," he added.
'World away'
Last week the governor of the Bank of England, Sir Mervyn King, warned that the UK economy would grow at a slower pace than previously expected.
And the minutes of the latest meeting of the Bank's Monetary Policy Committee, published yesterday, indicated that its members showed no enthusiasm for a rise in interest rates in the short term.
Peter Rollings, of estate agents Marsh & Parsons said: "Lending remains a world away from the level we need to see for the national housing market to pick up steam again."
"Despite the recent improvement in mortgage rates, demand for mortgage finance is still being thwarted by overly strict [lending] criteria," he added.