Coca-Cola to invest a further $4bn in China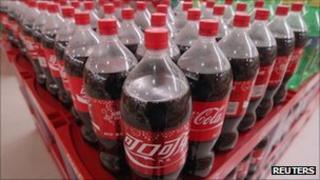 Coca-Cola is to invest a further $4bn (£2.5bn) on expanding its operations in China, as Western food and drink companies continue to target the world's fastest-expanding economy.
The US giant will spend the money between 2012 and 2014. It has already invested $3bn in China since 2009.
"China is one of our most important growth markets," said Coca-Cola chief executive Muhtar Kent.
Chinese retail spending rose 18% in June compared with a year earlier.
Coca-Cola's sales in China have doubled over the past five years, and increased by 24% in April to June from the same period in 2010.
In an interview with China's state-run Xinhua news agency, Mr Kent also confirmed that the company was still looking at the possibility of floating shares in Coca-Cola on the Shanghai Stock Exchange.
He said: "It would be a good thing not just for the reasons of capitalisation, but also for reasons of being a stronger part of the Chinese community."
Coca-Cola has opened an extra facility in China this year, and has plans to launch two more.
Other food and drink firms are also increasing their investment in China. Last month, Switzerland's Nestle bought a 60% stake in Chinese sweet-maker Hsu Fu Chi for $1.7bn.
Restaurant firms McDonald's and KFC owner Yum Brands are also expanding in China.