Sky 'restricting pay-TV film competition'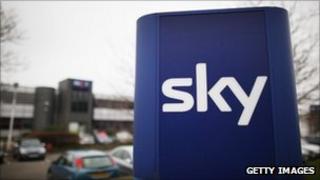 Sky's control over pay-TV movie rights in the UK is restricting competition, leading to higher prices and reduced choice, the Competition Commission has provisionally ruled.
The commission said it was considering whether to restrict the number of Hollywood studios from which Sky currently has the exclusive rights to be the first to air their new releases.
Sky said it continued to consider that no regulatory intervention was needed.
A final ruling is due next year.
'Less innovation'
Sky has twice as many pay-TV subscribers as all its rivals combined.
At present it has agreements with all six of the major Hollywood studios to be the first UK broadcaster to be able to air their new releases on pay-TV.
The commission said that because of the company's large subscriber base, "would-be rivals are unable to bid successfully against Sky for these rights".
Laura Carstensen, who led the commission's investigation, said: "If things stay as they are, we see no likely prospect of change."
She added: "We have found that, as a result of this lack of effective competition, subscribers to Sky Movies are paying more than they otherwise would, and there is less innovation and choice than we would expect in a market with more effective competition."
The commission said other possible remedies it was considering included requiring Sky to carry other companies' movie channels or products on its platform.
It is also considering restricting the nature of Sky's rights with the Hollywood studios, such as giving its rivals the chance to offer subscription video on demand.
Internet rivals
Sky said: "We note that the Competition Commission's findings remain provisional and have been issued for consultation.
"We will continue to engage with the Competition Commission during the on-going regulatory process."
Ms Carstensen added that while many companies are now seeking to offer internet-distributed movie services, "we have found no evidence to date that any of these alternative providers of movie products are likely to affect significantly Sky's ability to secure the first pay-window rights of the major studios in the foreseeable future".