Stock markets rise on hopes of more US Fed stimulus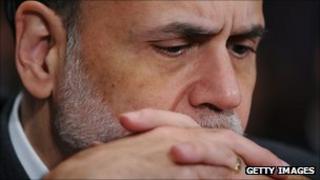 Stock markets and gold prices have risen, while the dollar has fallen, as markets expect further stimulus measures by the US Federal Reserve.
Markets on Wall Street closed strongly, with the Dow Jones ahead by 3%, and the S&P and Nasdaq also rebounding.
It came after European markets closed up 0.7% to 1.1%, and gold had hit a new record earlier in the day.
The Fed's chairman, Ben Bernanke, is widely expected to discuss further stimulus actions in a speech on Friday.
This may involve more "quantitative easing" - buying up US debt to inject more cash into the financial system.
The Fed has already carried out two rounds of quantitative easing (QE), to stabilise the 2008-09 financial crisis, and more recently to boost the flagging recovery.
Earlier this month, the US central bank also took the unusual step of saying that it expected to keep short-term interest rates close to zero until 2013.
On Friday, Mr Bernanke will give the keynote speech at the annual meeting of central bankers at Jackson Hole in Wyoming.
The second round of QE and the interest rate commitment were hinted at by Mr Bernanke when he spoke at the same event last year.
Anticipation in the US of a fresh monetary offensive from Mr Bernanke, saw the S&P index close up by 3.4%, and the tech-based Nasdaq finish ahead by 4.3%.
Last Updated at 17 Nov 2017, 21:00 GMT
price
change
%
1294.00

+

+15.70

+

+1.23
Dollar vs gold?
The price of gold briefly rose above $1,900 an ounce for the first time during Asian trading hours, setting a new all-time high of $1,913.50.
Gold, which is viewed by investors as a haven investment, has been boosted both by anticipation of QE - which is expected to erode the value of the dollar - as well as recent signs of weakness in the US and European economies.
"If they push through with more stimulus, gold could rise even further," said Colin Whitehead of Fat Prophets.
He explained that a fresh stimulus package would mean that the US would have to print more money to boost liquidity in the markets, which in turn could see the US currency weaken further.
"The underlying driver of gold prices is the depreciating US dollar value," he said, "so the more money they print, the stronger gold gets."
However, following the open in Europe stocks rallied strongly, while the gold price fell back somewhat, with the London morning price fixing at $1,886.50 an ounce.
In New York the spot price of gold had fallen to $1,833.50 in late trade.
Analysts say that the previous round of QE boosted share prices, as investors sought to reinvest the cash received in return for debts sold to the Fed.
Meanwhile, the dollar fell against most currencies in Tuesday morning trading.
The euro rose 0.58% against the dollar, to $1.4441, although some of the gains were due to industry surveys that revealed that eurozone manufacturing and services were not performing as badly as expected.
Libya uncertainty
Meanwhile, oil prices also rose in Tuesday morning trading, because of continued fighting in Libya and expectations that official figures will show a decline in US crude stockpiles.
Brent crude rose 95 cents to $109.31 a barrel, while US crude rose $1.02 to settle at $85.44 a barrel.
"It could take months before oil can start to flow again from Libya," said John Vautrain, oil analyst at energy consulting firm Purvin & Gurtz.
"I think there was a lot of euphoria on Monday. But the whole country is not completely pacified yet and we don't have an organised government. A lot is lacking."