Foster's reports annual loss of $93m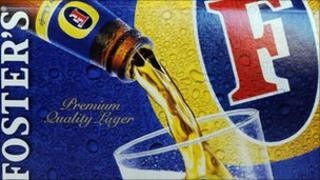 Australian brewer Foster's has reported an annual loss as it tries to fend off a hostile takeover bid by SABMiller.
Foster's reported a loss of 89m Australian dollars ($93m; £56.5m) for the year ending 30 June.
Despite the loss, Foster's said it planned to return A$500m to shareholders.
The move comes after Foster's rejected a $10bn takeover offer from SABMiller, saying the bid significantly undervalued the company.
"Options being investigated include a capital reduction and share buy back." John Pollaers, chief executive officer of Foster's Group said in a statement.
'Transformational year'
The latest results from Foster's are an improvement on the A$464m loss it booked last year.
Mr Pollaers said that this had been made possible by the changes that had been implemented in the company.
In May, Foster's split its businesses into two parts, Foster's beer operations and the wine business, Treasury Wine.
"This has been a transformational year for Foster's and I'm pleased to say that the turnaround is on track," he said.
Mr Pollaers explained that the split had allowed the company to focus on growing its key businesses.
"Foster's is now able to dedicate all of its considerable financial resources and industry expertise to the beer and cider business." he said.
Market share
One of the key areas of concern for brewers has been the contraction in the Australian beer market, which declined 6% in the year to the end of June.
However, Foster's said, despite the decline, it had managed to stabilise its market share.
"One of the key wins for us in the past year has been stabilising our market share, correcting a long term trend of decline." said Mr Pollaers
Foster's said it had increased its spending on advertising and promotion of brands by 4% during the period, a move that helped it minimise declines in market share.
"Key initiatives included the launch of new products in targeted growth categories and increased customer and consumer marketing." the company said.
Any purchase of Foster's by SAB would not include the Foster's lager brand in the UK and Europe, where it is owned by Heineken.