Toyota and Ford to collaborate on hybrid SUVs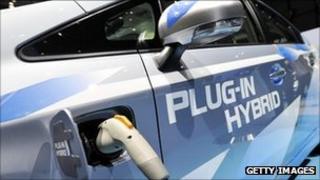 Carmakers Toyota and Ford have agreed to collaborate a new hybrid system for SUVs and light trucks.
The two said they will work as equal partners under a memorandum of understanding they have signed.
They will jointly develop a rear-wheel drive powertrain to be available later this decade, which they will then each install in their own separate vehicles.
The US and Japanese firms also agreed to work together on common standards for web-based services in cars.
"This agreement brings together the capability of two global leaders in hybrid vehicles and hybrid technology to develop a better solution more quickly and affordably," said Derrick Kuzak, Ford's head of product development.
Toyota is well-known for its hybrid vehicles - which are powered by both a petrol engine and an electric motor - after launching its Prius cars in 1997, and has sold 3.3 million hybrid vehicles since.
Separate collaboration on telematics systems, also announced by the pair, is expected to improve the availability of telephone, navigation and entertainment services in cars.
The memorandum is expected to be fleshed out into a fully costed formal agreement some time next year.