Persimmon says housing market is stable but challenging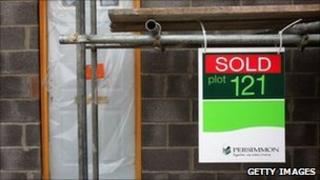 The housebuilder Persimmon has said the housing market "remains stable" but that the economic situation means it will "continue to be challenging".
In the first six months of 2011 it sold 4,439 properties, down 5% from 2010.
The average selling price was £162,647, 4% lower than the previous year.
Persimmon reported pre-tax profits of £40.5m, down 41% from the same period last year when its figures were boosted by a big one-off increase in how much it thought its land was worth.
In the first half of 2010, Persimmon reversed a previous write-down in land values of £70.7m.
In the first six months of 2011, the company reported an underlying profit - which strips out one-off items such as asset revaluations - of £59.7m, up 52% from the same period last year.
As a result, the company is increasing its half-year dividend from 3 pence per share to 4p.
"The significant improvement in underlying profitability of the business has resulted from the combination of gross margin gains and a more efficient capital structure," said chairman Nicholas Wrigley.