Banks see lack of demand for borrowing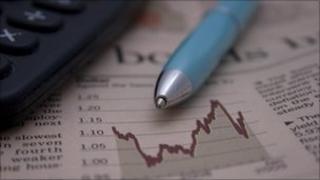 Householders and companies are continuing a safety-first approach to debt reflecting slow growth in the UK economy, a banking body has said.
Outstanding debt on consumer overdrafts and personal loans, at £52bn, was at its lowest for 10 years, the British Bankers' Association (BBA) said.
However, there was a slight rise in the number of mortgages approved in July.
Among businesses, the banks said that debt repayments by companies were outstripping new loans.
Cutting debt
The figures suggested that people were using existing funds to cover essential payments, rather than borrowing more.
Last month, the BBA said that some people were saving less because they were having to pay higher household bills.
The latest figures show that the savings and personal deposits with major High Street banks accelerated slightly in July.
But the BBA said that deposits and savings had only increased by £8.6bn in the first seven months of the year, compared with £16.3bn in the same period of 2010.
Repayments of personal loans and overdrafts outweighed new lending again, pushing the outstanding debt level in this area to its lowest for a decade.
Credit card borrowing was only slightly higher in July as a result of the interest charged on existing debt, the BBA said.
Appetite 'low'
The banks said that there was also a trend in the corporate sector overall for repayments to cancel out borrowing.
Lending to financial companies was outstripped by repayments again in July, and debt repayment matched new borrowing in the non-financial companies sector.
"Overall companies' appetite for finance remains low, reflecting business decisions in difficult trading conditions - new finance made available to one company is simply being offset by debt repayment from another," said David Dooks, the BBA's statistics director.
There is similar care being taken by householders in terms of home loans, despite mortgage rates being set at low levels and activity having picked up slightly, according to commentators.
The BBA figures showed that 33,717 home loans were approved for house purchases in July, slightly more than in June and a year earlier.
However, Brian Murphy, of broker, the Mortgage Advice Bureau, said mortgage applications made in September and October would be a stronger indicator as to the health of the mortgage market.
"In a healthy market we would expect to see an uplift in numbers post summer vacations, but whether this will happen is anybody's guess," he said.
"The problem does not lie with the lending environment, which is highly attractive at the moment. The problem lies with consumers feeling the financial pinch."