UK manufacturing orders holding up, says CBI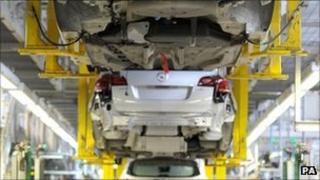 UK manufacturing orders have been better-than-expected in August, according to a survey from the CBI.
Its Industrial Trends Survey found fractionally more manufacturers reporting orders above normal than those reporting below normal levels.
That was an improvement from July, and the latest survey also found price pressures had begun easing after six months of high inflation.
But the CBI warned that there could be trouble ahead for UK manufacturers.
"Inflationary pressures have eased since the start of the year, with fewer firms predicting they will have to raise prices at the factory gate over the coming quarter," said Richard Woolhouse from the CBI.
"But the risks to manufacturing activity and business confidence have if anything increased, due to market volatility and the recalibration of growth expectations worldwide."
The CBI survey features responses from 510 manufacturing firms.