Summer property sales retain pace, HMRC says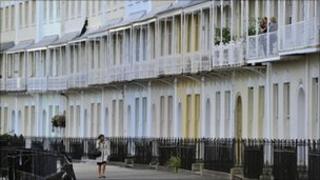 UK property transactions remained at their highest level of the year in July but were still down on 12 months earlier, new figures show.
There were 79,000 homes sold during the month, the same number as in June, according to HM Revenue and Customs (HMRC).
However, this was 10,000 fewer homes sold than in July 2010, it said.
At the height of the property boom in July 2007, there were 151,000 homes sold.
'Tyre kickers'
Since 2007, sales have been weighed down by the continued rationing of mortgages and the reluctance of sellers to drop their asking prices.
Henry Pryor, the property market commentator, said that relatively few potential house buyers could actually go through with transactions.
"While there are huge numbers of so-called tyre kickers looking at [property] websites, those who can qualify for a mortgage or who have the additional equity required are small in number," he said.
"As a result, only one in three homes are actually selling."
Separate figures published by the British Bankers' Association on Tuesday showed that there had been a slight rise in the number of mortgages being approved in July compared with the previous month.
Meanwhile, housebuilder Persimmon said the housing market remained stable but the economic situation meant the market would "continue to be challenging". In the first six months of 2011 it sold 4,439 properties, down 5% from 2010, it reported on Wednesday.