Japan opens $100bn fund to help firms beat yen strength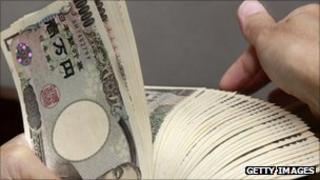 The Japanese government has announced a new $100bn (£61bn) fund to help companies combat the strength of the yen.
The Ministry of Finance said the fund will help firms expand their overseas operations and secure energy resources.
The move comes as the yen hovers near record levels against the US dollar.
A stronger currency hurts Japan's export-dependent economy, and companies have warned that they may lose business to foreign rivals.
"We decided to compile the package to show our strong determination that we will act if current yen rises persist, or if the yen rises further," Japan's finance minister Yoshihiko Noda said.
Weaker yen?
The facility, which will be available to companies for one year, is aimed at helping companies in a number of ways.
As well as providing cheaper and easier access to financing, it will also look to help boost foreign acquisitions by Japanese firms.
Analysts said such a move will help the government's efforts to curb the yen's rise.
"In principle if this fund gets used to help Japanese businesses expand overseas it should help weaken the yen," Takuji Okubo, chief Japan economist of Societe General told the BBC.
He explained that as Japanese companies look to expand overseas they will need to convert their yen into US dollars, or other foreign currencies, in order to pay for their acquisitions.
As the companies sell the yen, and buy the dollar and other currencies, it should weaken.
'Nothing new'
The fund is the latest in a series of attempts by the Japanese authorities to try and weaken the yen.
Earlier this month, the central bank and government stepped into the currency markets in an attempt to cut the strength of the yen.
While analysts agreed that Wednesday's move may achieve its objective of weakening the currency, they said the move is unlikely to trigger an overseas shopping spree by Japanese companies.
"This is nothing new. They are calling it a fund, but this is an extension of what the Japan Bank for International Co-operation (JBIC) has been doing in the past," said Societe General's Mr Okubo.
He added that companies will only expand if they have sound and attractive business opportunities available.
"Businesses are not going to think about expansion just because of this fund," he said.