Carmaker BYD's shares drop as profit outlook is trimmed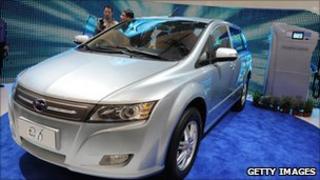 BYD, the Chinese carmaker backed by Warren Buffett, has seen its shares tumble after analysts cut the firm's earnings outlook.
Shares lost 8.2% in Hong Kong, closing near a two-and-a-half year low.
BYD has lost more than a quarter of its market value this week after its earnings fell 89% and it issued a profit warning.
China is the world's biggest car market and local firms such as BYD are facing increased pressure from foreign rivals.
'Market slowdown'
The two day share sell-off was triggered by BYD's announcement that net income fell 89% to 275 million yuan ($43m; £26m) in the first six months of the year.
The stock lost 14% on Tuesday after the results were released.
Shenzhen-based BYD warned of another possible loss in the current quarter as it faces competition from foreign rivals including General Motors and Volkswagen.
At the same time, BYD said vehicle sales in China fell after the government withdrew stimulus policies, such as preferential tax for small cars.
Profits at BYD's battery, cell phone parts and assembly businesses have also fallen, which it attributed to competition and higher costs.
Zhang Yu, an analyst at AJ Securities, said BYD needed to change its strategy.
"The challenge facing BYD is more than a market slowdown. BYD had been expanding too fast in the past years," he said.
Billionaire US investor Warren Buffett owns about 10% of BYD through his company MidAmerican Energy.
His stake in BYD has lost about $2bn of value since its peak, but is still trading at nearly double what he paid for it.