Hong Kong court delays ruling in immigration case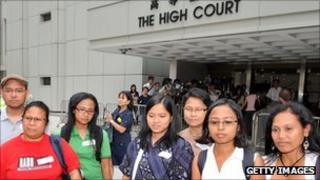 Hong Kong's High Court has reserved judgment in a judicial review brought by a domestic helper who is seeking permanent residency in the city.
Evangeline Banao Vallejos has lived in Hong Kong for the past 25 years and her case is the first of three brought by foreign domestic helpers.
Ms Vallejos is one of five Filipinos seeking permanent residency.
The case is being closely watched as currently domestic workers are not allowed to become permanent residents.
Mr Justice Johnson Lam told the court that he would try to hand down his judgment before the end of next month.
Legal battle
Hong Kong's mini-constitution, the Basic Law, usually allows foreigners to become permanent residents after living in Hong Kong for seven years.
This means they can live and work in the city without a work visa or seeking sponsorship from a company. They also have voting rights and can seek to run in local elections.
However, immigration rules exclude foreign domestic helpers from permanent residency saying that they are not "ordinarily" resident in the city.
Human rights lawyers and many domestic helpers argue that this is not constitutional and is discriminatory.
Gladys Li, representing Ms Vallejos, said the constitution allows non-Chinese nationals to apply for permanent residency, whereas the government argues that due to the fact that domestic helpers are required by law to compulsorily live with their employers and return home every two years, this makes their residency in Hong Kong "extraordinary".
However, Ms Li argues that these are conditions of their employment and should not dictate the conditions of their residency.
Scaremongering?
This landmark judicial review is being watched closely within Hong Kong's community and has divided opinion.
Both the government and a pro-Beijing political party have said that allowing foreign domestic helpers to have permanent residency in Hong Kong would open the floodgates to their relatives, including children, who would require housing and education which would create a social welfare burden.
However, domestic helper representative groups and human rights lawyers have accused the government of scaring people.
Mark Daly is one of the lawyers representing Ms Vallejos and the domestic helpers in the other cases.
"There's a lot of scaremongering," said Mr Daly. "The doomsday scenario is not realistic. I'm surprised that people in government have pushed the panic button."
Mr Daly said he was also surprised that the government had said that if it were to lose this case, then it would ask the Beijing government for a reinterpretation of the decision.
This would not be the first time that Hong Kong has asked Beijing for a second opinion on both governmental and legal decisions, but it is not liked by those here who wish to preserve Hong Kong's legal and political autonomy.
Cost of living
Eni Lestari is the chairwoman of the Association of the Indonesian Migrant Workers in Hong Kong, and has lived in the city for 12 years.
Of the 300,000 or so foreign domestic workers living in the city, most of whom are from Indonesia or the Philippines, she said only 120,000 have lived here for more than seven years.
"Hong Kong is a very expensive city. Already our wages have declined against Hong Kong's rising inflation," she said.
"We could not afford to bring our families here. Most helpers want to come here to earn and then they want to leave and go home to their families. But I think it is discriminatory if we are not allowed permanent residency."
"The public needs to be aware of the discrimination that is shown towards domestic helpers and yet we look after their children, we cook, we clean," Ms Lestari added.
Financial burden
The judicial view has caused a great deal of discussion within the Hong Kong community.
Some letter writers and commentators have said they fear their jobs will be taken if having permanent residency allows former domestic helpers to apply for other jobs.
Others have called for shorter residency limits - such as four or six years - for domestic helpers so that they cannot apply for permanent residency.
But Ms Lestari argues that this would be counter-productive on a number of fronts.
She estimates it costs on average $3,000 for a domestic helper to come to Hong Kong, including a huge payout to the recruitment agency. Since the minimum allowable wage for a domestic helper in Hong Kong is HK$3,740 a month and the helpers are not permitted to earn extra money elsewhere, it can take them seven months or more to pay off the agency and debts back home.
Ms Lestari also says that employers prefer to have domestic helpers working for them long-term and build up relationships with them lasting years, particularly if there are children involved.
"If the government introduces restrictions of four or six years, it won't be worth coming here. And I think the domestic helpers will look to go to other countries instead," she said.