BHP Billiton profits jump as commodity prices rise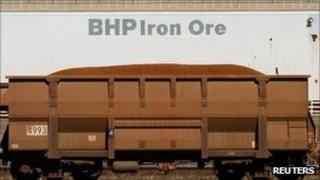 Mining giant BHP Billiton has reported a big jump in annual profits thanks to soaring prices for commodities.
The firm recorded a profit of $23.6bn (£14.3bn) for the year to 30 June, up from $12.7bn a year ago.
The price of commodities has been pushed higher in recent years because of strong demand from emerging economies, and BHP said it expected this trend to continue.
However, the company warned that it was facing rising cost pressures.
"In the current environment, tight labour and raw material markets are presenting a challenge for all operators and BHP Billiton is not immune to that trend," it said.
Positive outlook
BHP's results were boosted by rising prices of iron ore and copper. Revenues jumped 36% to $71.7bn and the company raised its dividend by 22%.
BHP said that it had seen "robust demand" for commodities in the past year, with another strong year of growth in Chinese steel production.
It noted that global economic growth had slowed in the second half of its financial year, but said it remained "positive" on long-term prospects for the global economy and expected demand for commodities to remain strong.
"Over the longer term, we expect strong demand for our core commodities to be underpinned by the industrialisation and urbanisation of China, India and other emerging economies," BHP said.
"Progressively higher cost sources of new supply will be required, supporting long run commodity prices and operating margins for the low cost producers."