US durable goods jump on car and plane orders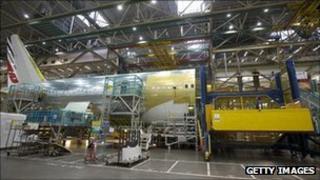 The US saw a surprise 4% rise in durable goods orders in July.
The rise - twice what markets had expected - was driven by a bounce back in car and aircraft orders, according to the US Department of Commerce.
Plane orders jumped 43% in the month, more than reversing a 24% drop in June. Demand for cars and parts rose 11.5%, as the industry recovered from supply disruption from Japan's earthquake.
Excluding these more volatile sectors, manufacturing orders remained weak.
Durable goods orders excluding transportation goods rose just 0.7%, in line with the rate seen in the previous two months.
However, the figures also showed that the business investment plans category dropped 1.5% - the biggest such drop in six months - suggesting that companies are in no hurry to expand production.
"The headline figure was a lot stronger, the ex-transportation number was better than expected," said Scott Brown, chief economist at Florida-based investment advisors Raymond James.
"A lot of that was just the simple volatility that we see in the transportation sector. It tends to be pretty choppy. It's nothing you'd want to hang your hat on."
Analysts said that other recent economic data had been weaker, suggesting that the strong growth in durables was unlikely to be sustained in coming months.
In the latest such negative indicator, the number of applications for mortgages to purchase homes in the US fell last week to its lowest level since 1996, according to new data from the Mortgage Bankers' Association.
Recovery 'slow'
There was further doubt cast on the strength of the US economic recovery by the non-partisan Congressional Budget Office (CBO), which warned that growth would remain weak in the near term.
Unemployment will remain high, with the rate falling only from 9.1% to 8.5% in the fourth quarter of 2012, it added.
Meanwhile, gross domestic product would grow by an annual rate of 2.4% this year and 2.6% in 2012, the CBO said.
The CBO also said that the US was "facing profound budgetary and economic challenges".
It is forecasting a $1.3 trillion budget deficit for 2011, 8.5% of GDP and the third-largest shortfall in the past 65 years, having been exceeded only by the deficits of the preceding two years.
"Although economic output began to expand again two years ago, the pace of the recovery has been slow, and the economy remains in a severe slump," CBO director Doug Elmendorf added in a blog post.