England riots: High Street aid fund launched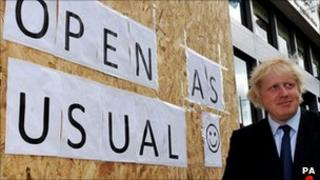 A fund offering emergency help to small businesses affected by this month's riots has been launched.
The £3m raised so far by the High Street Fund has come from the Mayor of London and a number of large firms including Barclays, BP and Lloyds.
It will start taking claims from Friday 26 August.
This initiative is in addition to the government's £20m High Street Support Scheme, which will be distributed by councils.
Its main aim is to provide short-term help to try to keep firms trading while they wait for insurance payouts or other funding to come through.
It expects to make initial grants of up to £2,000 "within a matter of days". Further payments of similar amounts could be made if necessary.
Sir William Castell, chairman of the Wellcome Trust, who is heading the fund, said: "Everyone was shocked at the damage caused by the riots, and for numerous small businesses the hardship is still being felt.
"The High Street Fund will be the channel for the British business community to rally round and aid smaller businesses caught up in the disturbances."
The Forum for Private Business (FPB) said the two High Street funds would be a "welcome respite for many small shops and other businesses struggling to get back on their feet".
"It is particularly welcome given mounting cash flow worries faced by business owners in the aftermath of the riots," said the FPB's senior policy advisor Phil McCabe.
"For example, some insurance policies will not adequately cover properties that have been damaged, or destroyed or entrepreneurs who have significantly lost trade.
"The new fund should help ease some of these fears slightly, at least in the short term."
'Still suffering'
The firms involved, which include the UK's biggest banks as well as Deloitte and Capita, will provide practical support as well as a donation to the High Street Fund.
Capita, for example, which does back office work for businesses and councils, is running a helpline to answer questions about the fund. Some of the banks are promising free business guidance.
A £500,000 commitment from Mayor Boris Johnson's office will apply just to businesses in London.
London town centres will also benefit from £50m in long-term regeneration money, the mayor has pledged.
"I have seen at first hand businesses showing remarkable resilience and true fighting spirit," Mr Johnson said.
"However, it is no secret that many high streets in the capital are still suffering as a result of the appalling events earlier this month. Small businesses need urgent help to repair damage and get goods back on the shelves and the High Street Fund will help to do just that."