Acer shares fall after warning of further losses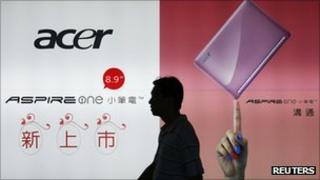 Shares in Taiwanese PC maker Acer fell after the company posted worse-than-expected losses and said it was "impossible" to break even this year.
The firm posted a net loss of 6.8bn Taiwanese dollars ($234m;£143m) from April to June, compared with a profit of NT$3.6bn a year earlier.
Earnings have been hurt by slumping sales which have forced the company to cut jobs and write off inventory.
Acer shares fell by the maximum 7% allowed on the Taiwanese exchange.
High volume
"Acer made efforts to further downsize channel inventory due to stagnant European and US economies, and the slow PC market," the firm said in a statement.
"Additionally, the company paid considerably in senior executive severance pay. Consequently, Acer suffered a higher-than-expected loss."
Acer's strategy over the past few years has been to produce a large number of cheap laptops.
The Taiwan-based PC maker has lost market share as consumers flocked to newer, more technologically-advanced products like the iPad.
The company's own tablet computer has so far been unable to keep pace with Apple's top-selling iPad.
Acer Chairman JT Wang also told investors the company would not be able to meet its full-year profit forecast because of challenges faced from the slowing global economy.
According to research firm Gartner, Acer dropped from being the world's second-largest PC maker to the fourth-biggest in the second quarter of this year.