High Street traders report more difficult conditions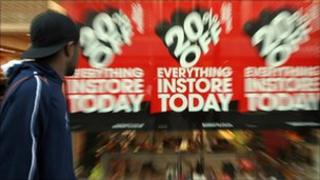 High Street retailers have reported the most difficult conditions for more than a year in a regular survey.
The CBI's monthly Distributive Trades Survey showed that 31% of retailers had seen sales rise in the two weeks to 16 August, while 46% said they had fallen.
The difference between the two was the largest since May 2010.
In addition, 11% of retailers were more negative about the future over the next three months than three months ago, the highest number for 18 months.
It comes as Floors 2 Go fell into administration, the Co-op warned of the worst trading conditions in 40 years, and Topps Tiles issued a profits warning.
Looking ahead to the rest of the year, retailers expect sales volumes to fall again in the year to September, but at a slower pace, with 27% expecting a rise and 35% predicting a fall.
Tough month
Judith McKenna, head of the CBI Distributive Trades Panel said: "As expected, August was a tough month on the High Street.
"Sales volumes fell at a pace not seen for over a year, as consumers have continued to see their real incomes squeezed by a combination of inflation and weak wage growth.
"This survey suggests that prices will rise more slowly in the coming months, and savvy retailers will continue to offer consumers the lowest prices possible, but with energy and commodity costs still high, families' spending power looks like being constrained for some time."