How F1 teams and sponsors aim to drive fan interest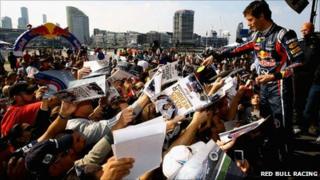 First came the noise, the mind-numbing roar of a powerful engine, filling the still Parisian air and prompting children to shoot their hands to their ears.
Eyes wide open, they pointed to a tiny dot by the golden Alexander the Third bridge over the Seine - a dot that in just a few seconds was transformed into a sleek, elegant sports car.
The Red Bull showcar stunt in Paris might have been a surprise to passing tourists or non-F1 enthusiasts, but it surely achieved its objective.
It kept people talking about Formula 1 and about the Red Bull F1 team, for weeks after the event.
Ever since the showcar project started in 2005, the team has entertained crowds all around the world, speeding through the streets of different countries some 20 times a year.
But why does Red Bull Racing - and other F1 teams and their sponsors - bother about such off-the-track exploits?
The reason behind Red Bull's strategy is simple, explained the team's head of marketing, Dominik Mitsch - to bring the sport closer to the public by giving the public a chance to see and hear the car.
"The fans are the ones who are supporting the sport, F1 wouldn't be anything without the fans," he says.
Luxury camping
But teams could not operate on fan sentiment, enthusiasm, and race ticket sales alone.
The other side of the coin is that F1 is a hard-headed business operation, and one that also has to consider another of its major constituencies - the products and firms which financially support the teams.
In Red Bull's case, it is the energy drink; in Ferrari's or Marussia Virgin's cases, for instance, it's the road car. And these sponsors are looking to use F1 as a commercial vehicle.
So, in pursuit of a perfect meeting of interests, F1 teams and sponsors compete with each other to dream up original ideas that will help them engage even more with fans and keep them hooked.
During the recent British Grand Prix at Silverstone in rural Northamptonshire, an F1 car of Marussia Virgin Racing looked rather odd, parked in the middle of a sports field at Stowe boarding school.
But that wasn't the only peculiarity - that weekend, the field was unusually dotted with hundreds of camping tents.
In a bid to get the fans closer than ever to the off-the-track F1 experience, the company thought to use a relatively recent phenomenon - "glamping" - as a marketing move.
Combining a glamorous get-away and camping, Marussia Virgin's spokesperson Mike Scudamore said the venture proved a huge success for the team, which still has to push its way to the front lines of F1.
"For a long time, there've been campsites at Silverstone, and there's been a long history of people coming camping, but typically it was just a tent in a field, or a caravan - and we wanted to take it up to the next level," he explained.
"Formula 1 has often kept fans at arm's length, and our team wanted to break the mould."
Organisers set up a stage in the field, and invited musicians and the team's drivers, Timo Glock and Jerome D'Ambrosio, who met with some 500 fans staying at the site.
"Seeing the drivers, the friendly atmosphere here, watching the cars on a giant screen, great food - all of it is just fantastic," exclaimed Andrei Poteenko, who came from the Russian town of Voronezh.
And the drivers seemed to appreciate the event as well - Timo Glock said that meeting the fans gave him a nice boost before the race.
Sponsors' priorities
Pretty much all F1 teams and their sponsors aim to engage their public on some level.
Red Bull and Lotus Racing have showcars, LG organises F1 Rocks concerts, and Vodafone Mercedes McLaren's sponsor, Diageo, holds glamorous Johnnie Walker parties, to name a few.
But Christian Sylt from Formula Money analysts thinks that more could - and should - be done to keep the audience loyal and entertained.
"I think it is important for teams to engage fans - besides hosting autograph sessions with drivers at races - but they have historically been slow to do so, and 2011 is the first year that they have all used Twitter and Facebook, for example," he says.
"Engaging the audience is very important for sponsors as well - in order to activate their deals and increase return on investment."
Zak Brown from Just Marketing International, the world's largest motorsports marketing agency, agrees - stressing that the most important area of improvement would be getting the drivers to be more fan-friendly.
"Drivers should make themselves more available - and Marussia Virgin's glamping is an excellent example of what can be done and should be done more often," he said.
"Because the drivers are in high demand and have a very compact schedule, if they have an hour of downtime, they want to relax, which is understandable.
"But when at the end of the day they are made multi-millionaires by the fan base, they need to make sure they're giving enough back to the fans."
Business-to-business
Not all F1 sponsors, however, are interested in engaging fans - and according to Christian Sylt, there are actually more of those that tend to bypass the fan base.
These are the firms who are in the sport primarily for B2B (business-to-business) reasons, seeking out business opportunities with the rest of the sponsors - such as UBS, Hilton, Reuters and AT&T, for instance.
They are far more interested in "networking and signing deals with other F1 sponsors in the race paddock and giving the hospitality passes which come with the deal to clients, staff and potential customers as incentives," says Mr Sylt.
One of the reasons behind the large number of B2B brands in F1 is the extremely high sponsorship cost, explained the analyst.
More than 50% of the teams' external budgets - estimated to be around $182.9m per year per team on average - comes from sponsorship, according to Formula Money.
This huge sum, in turn, fuels the sponsorship fee - which averages $3.7m per year, said Mr Sylt.
Not every company can expect an easy return on such an important investment - and B2B brands are generally better off making deals right inside the paddock.
But even they should not forget the fans - because as Timo Glock of Marussia Virgin put it, "without the fans, Formula 1 maybe wouldn't exist."