Pay settlements 'steady at 2.5%'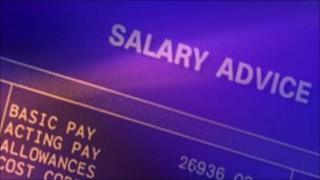 Typical pay settlements stood at 2.5% in the three months to the end of July with private sector rises leading the way, figures show.
The below-inflation level has stayed the same for seven consecutive months, according to Incomes Data Services.
No pay freezes were recorded in the private sector in the quarter, compared with 6% of deals a month earlier.
The three reviews in the public and not-for-profit sector in the same period saw pay freezes for most staff.
"Pay freezes look to have thawed across most larger employers in the private sector, and the overall picture on the level of awards is fairly stable, with manufacturing and the utilities ahead of services," said Ken Mulkearn, editor of IDS Pay Report.
"Meanwhile in the public sector, basic pay remains frozen for most staff."